There is a theme that jumps out at me today in our readings.  After reading them this morning, the theme comes down to one word – ROCK.  Seems like rather a simple word, a simple theme right?  As I read this morning, some thoughts popped into my head about how we often use the word ROCK – just in music alone.
ROCK of ages; I am a ROCK, I am an island; ROCK me gently; Don't ROCK the boat; Like a ROCK; ROCK around the clock – you get the idea.  Google "Rock in song titles" and you'll get even more.
Our readings today speak of a much more important rock.  The first reading talks about how Moses and Aaron struck the rock with Moses' staff and water gushed forth for the people and their livestock.  The community that was led out of slavery, who witnessed the parting of the Red Sea and then witnessed that same sea swallow the Egyptian army was grumbling about why they ever left Egypt.  They could live with being slaves, generation upon generation, just as long as they could eat grains, figs – pomegranates.  Now I enjoy a good fig (newton) every now and again, love my breads but would I sacrifice freedom from slavery for a pomegranate?  It is easy for me to judge them and  I have to ask myself if I would have had the same attitude were I the one wandering the desert.  Nevertheless, God heard the cries and provided them one more miracle with the water flowing from the Rock.
That thought was carried over into the response psalm where we are told – If today you hear His voice – harden not your hearts.  Come, let us sing joyfully to the LORD; let us acclaim the Rock of our salvation. Let us come into his presence with thanksgiving; let us joyfully sing psalms to Him.  Another beautiful song with the word Rock in it.  God is THE ROCK of our salvation.
And then we have our Gospel where Jesus asks His disciples "Who do people say that the Son of Man is?"  Have you given this much thought?  Who do YOU say that the Son of Man is?  Do you need to take time to think about this?  We have been given the answer and we know the answer to be true.  Simon Peter said in reply, "You are the Christ, the Son of the living God."  And how do we know this answer to be true?  Jesus said to him in reply, "Blessed are you, Simon son of Jonah.  For flesh and blood has not revealed this to you, but my heavenly Father.  And so I say to you, you are Peter, and upon this rock I will build my Church, and the gates of the netherworld shall not prevail against it.  I will give you the keys to the Kingdom of heaven.  Whatever you bind on earth shall be bound in heaven; and whatever you loose on earth shall be loosed in heaven."  Our entire Catholic faith, our entire Church, everything we believe in, all of the traditions and teachings handed down from generation to generation are based on that statement from today's Gospel.
I know you are all familiar with the phrase those who fail to understand history are doomed to repeat it.  In reading our readings from today, I am going to relate them to something going on in our times today.  I am going to post here a recent Pew Poll that was taken among practicing Catholics which I find rather disturbing…
Just one-third of U.S. Catholics agree with their church that Eucharist is body, blood of Christ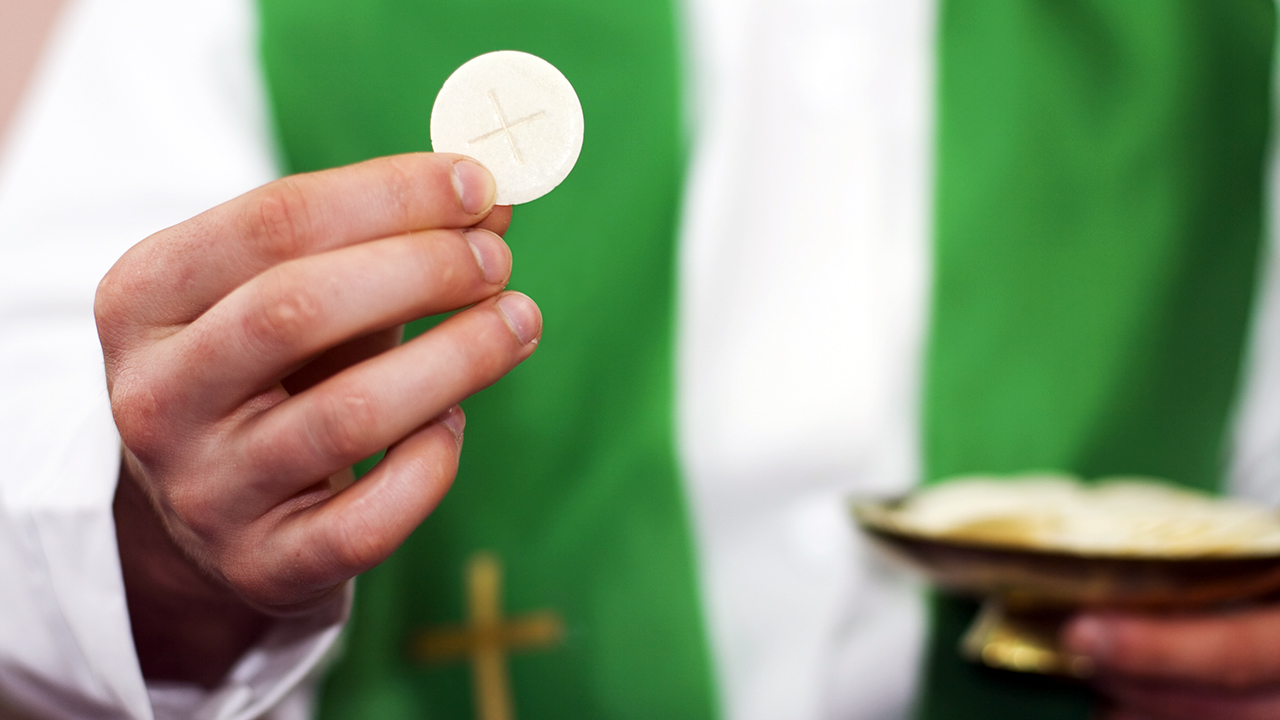 Transubstantiation – the idea that during Mass, the bread and wine used for Communion become the body and blood of Jesus Christ – is central to the Catholic faith. Indeed, the Catholic Church teaches that "the Eucharist is 'the source and summit of the Christian life.'"
But a new Pew Research Center survey finds that most self-described Catholics don't believe this core teaching. In fact, nearly seven-in-ten Catholics (69%) say they personally believe that during Catholic Mass, the bread and wine used in Communion "are symbols of the body and blood of Jesus Christ." Just one-third of U.S. Catholics (31%) say they believe that "during Catholic Mass, the bread and wine actually become the body and blood of Jesus."
It seems there is another growing phenomenon in the US ,
More Americans now say they're spiritual but not religious.
In reading these results, I am drawn back to Moses and Aaron in desert…Oh, that today you would hear his voice: "Harden not your hearts as at Meribah, as in the day of Massah in the desert, Where your fathers tested me; they tested me though they had seen my works."
I think we are a people beginning to test God again.  I think we have been wandering around in the desert too long and our faith is waning.  Who will be our ROCK?  Our Moses and Aaron is present among us; our Peter is here too – look no further than the Church.  It is our Catholic Church, the store of all the treasures and traditions given to us by Christ Himself.  The Church is our ROCK on earth today.  The Church, the TRUE Church, can – no MUST –  still be trusted and MUST still be our light in the darkness of this world.  The Church was ordained by Christ and Christ promised "…the gates of the netherworld shall not prevail against it.".   We now find ourselves between a ROCK and a hard place – I urge you to cling to the ROCK where the waters of salvation still flow freely for God's people.
Do something great for our Lord today – pray.  If you are finding yourself wandering in a desert, pray that God brings you to the waters of Salvation.  One last song title – ROCK Steady.
God's will, not mine, be done.
Be not afraid; just have faith.
Jesus, I trust in You.
He must increase; I must decrease.